Motywacyjny shadow box
Autor:
Tores
komentarzy 177
Shadow box to w scrapowej terminologii – trójwymiarowa kompozycja umieszczona najczęściej w niezbyt głębokim pudełku (stąd nazwa), ale może być również w ramce, na odwrotnej stronie blejtramu itp. Istotne, aby praca nie była płaska, powinna zawierać elementy mocno przestrzenne, ułożone warstwowo, dające wrażenie głębi. Ponieważ osobiście prace typowo skrapowe (LOsy, kartki) robię raczej płaskie, nie lubię na nich odstających ozdób, to shadow boxy są odskocznią od tej płaskości, z przyjemnością sobie coś tam układam od czasu do czasu. Teraz właśnie przyszła pora na obrazek, jak to u mnie bywa – z przesłaniem lekko motywacyjnym: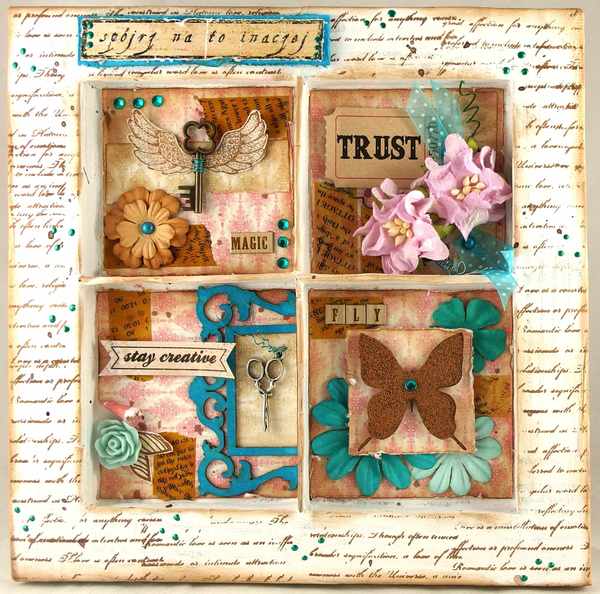 Jego bazą jest odwrócony blejtram, do którego wkleiłam przegródki z beermaty. Bazę okleiłam gazetami i pomalowałam gesso, a następnie brzegi ostemplowałam (krawędzie potuszowałam na brązowo):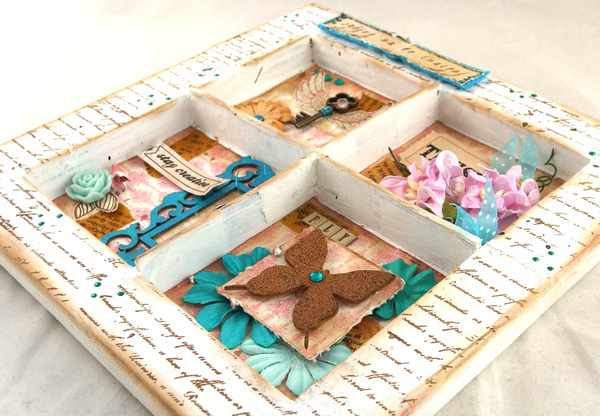 Poszczególne "okienka" wypełnione są elementami beżowo-brązowo-różowymi z kroplą turkusu. Zaczynając pracę wiedziałam tylko, że na pewno chcę wykorzystać ten kluczyk (z zestawu zawieszek My Mind's Eye) i stempelek "Skrzydła", cała reszta ułożyła się na bieżąco: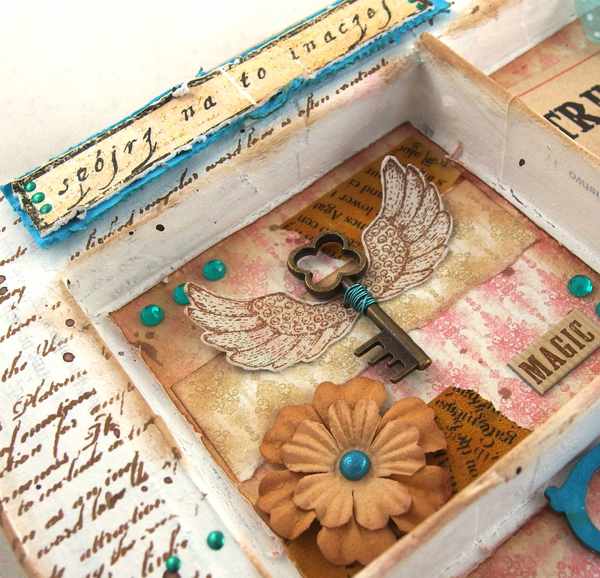 Wyszukiwałam turkusowe dodatki, którymi chciałam ożywić całość: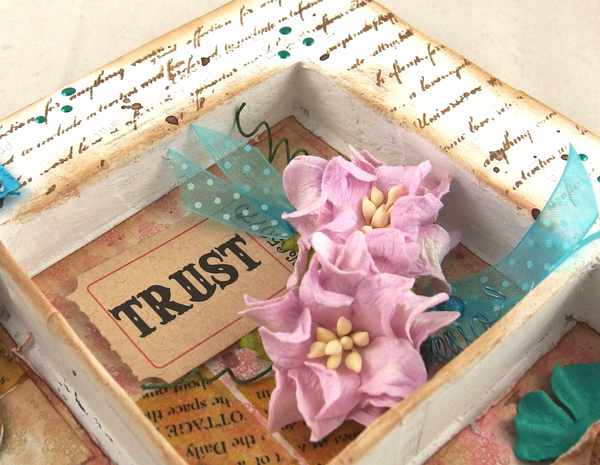 Turkusowy drucik okazał się świetny zarówno jako ozdoba, jak i praktyczny sposób przymocowania elementów do bazy: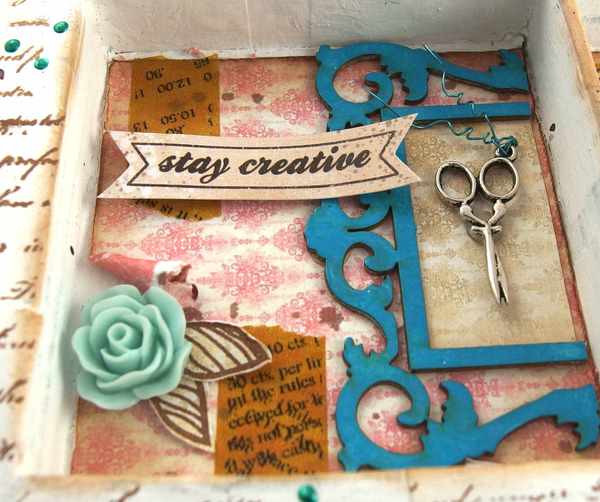 A kosteczki 3D jak zwykle sprawiły, że nawet z płaskich ozdób, takich jak kwiaty i tekturkowy motyl, dało sie stworzyć przestrzenną kompozycję: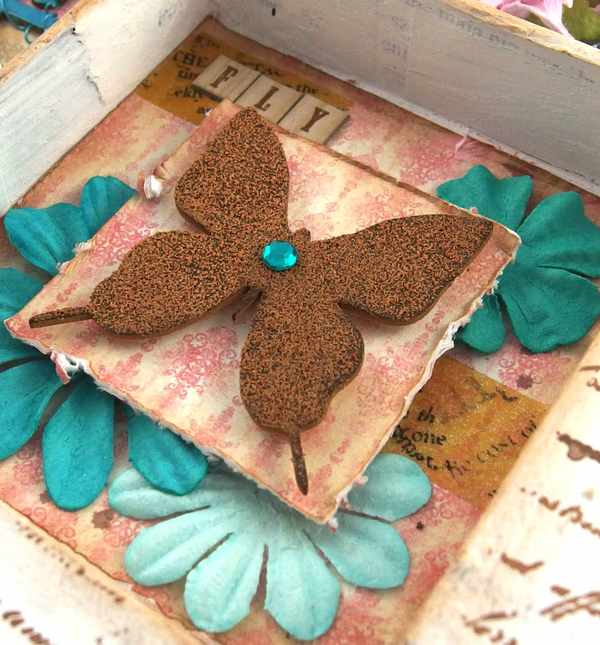 Motyl w ostatnim okienku został potuszowany ciemnobrązowym tuszem i wyembossowany za pomocą puchnącego pudru do embossingu (biały puder tego typu możecie kupić w sklepie Na Strychu). Jak widać, daje on zupełnie inny efekt niż zwykły puder, nie topi się w błyszczącą powierzchnię, tylko tworzy warstwę przypominającą nieco wyglądem zamsz.
Tworzenie tego shadow boxa dało mi też możliwość wykorzystania wielu przydasiów, po które raczej rzadko sięgam, takich właśnie jak puchnący puder czy mocno odstające kwiatki – naprawdę jest to fajna zabawa. W stryszkowym sklepie znajdziecie mnóstwo dodatków, które możecie w niej wykorzystać, takich jak metalowe zawieszki i druciki, drewniane ozdoby czy naklejki, również przestrzenne. Gdybyście skusili się na stworzenie shadow boxa koniecznie dajcie znać w komentarzach 🙂
Pozdrawiam
Tores-
Wykorzystane produkty:
– z zestawu "owocowego" wykorzystałam na tło różowy papier w damaski, a z karty z napisami wybrałam sobie jeden na tytuł pracy;

– gesso dobrze pokryło gazety, którymi okleiłam bazę i jednocześnie dodatkowo je skleiło;

– jeden z lepszych brązowych tuszy, jakich używałam. Dobrze kryjący, oddający detale, ma piękny ciemny kolor.

– ta taśma bardzo dobrze pasuje do różnego rodzaju starociowych i postarzanych prac;

– motyw skrzydeł jest wbrew pozorom całkiem uniwersalny, taki niewielki stempelek znajdzie bardzo dużo zastosowań;

– elementy stempla "Warkocz" można też wykorzystać w charakterze listków;

– śliczne i precyzyjnie wykonane drobiażdżki;

– kolor tego drucika jest obłędny!

– alfabet nie tylko w ładnych beżo-brązach i z malutkimi literkami, ale na dodatek literki są na tekturce, co dodaje solidności. Plus sporo ciekawych gotowych słówek.

– im więcej kwiatków, tym lepiej!

– na brzegach obrazka dodałam kilka kropeczek tego przepięknego koloru.