WYZWANIE 3D
Autor:
Drycha
komentarzy 1 346
Witajcie!:)
W tym wyzwaniu chciałybyśmy zwrócić uwagę na świetne możliwości, jakie daje używanie wielowarstwowych naklejek 3d lub ogólnie podklejania elementów kosteczkami pianki 🙂
Na Strychu dostępnych jest wiele zestawów naklejek 3d:
Są idealne do szybkiego nadania naszym scrapom, kartkom i innym projektom trójwymiarowości 🙂
Dla każdego coś fajnego 😉
*
Stwórzcie pracę z warstwowym elementem 3d (minimum 2warstwy) i zgłoście ją w inlinkz na końcu notki.
Macie czas do 18. grudnia
Prace muszą być nowe, nie publikowane przed datą ogłoszenia wyzwania. Warunkiem wzięcia udziału w wyzwaniu jest umieszczenie poniższego wyzwaniowego bannerka na swoim blogu (w notce z pracą na wyzwanie). Bannerek musi być podlinkowany do tej konkretnej notki.
Mamy dla Was dwie nagrody!  Dwa bony po 30zł każdy, do wykorzystania w sklepiku Na Strychu.
Można zgłosić więcej niż jedną pracę.
Mamy prośbę – jeśli wykorzystujecie w pracy jakiś produkt, który jest dostępny w naszym sklepie – napiszcie o tym i podlinkujcie go! Z góry dziękujemy
W pozostałych przypadkach wystarczy bannerek z linkiem do tego posta.
Oto prace naszych projektantek:
Praca Tores:
Moja praca na to wyzwanie to tag z przesłaniem dla Hani. Hania zawsze bardzo chce, żeby jej dorabiać skrzydła – tym razem dodałam też do towarzystwa motylki 3D.
Tutaj widać jak bardzo całość jest warstwowa: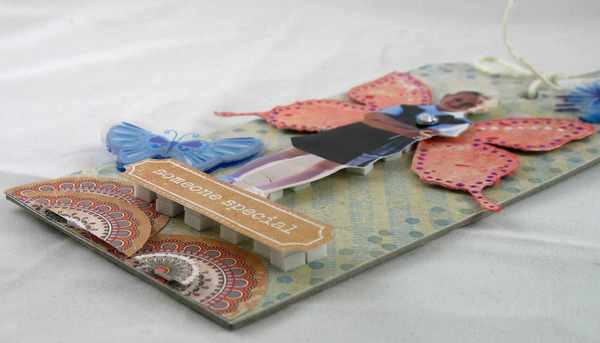 A tutaj – jak warstwowy jest folijkowy motyl: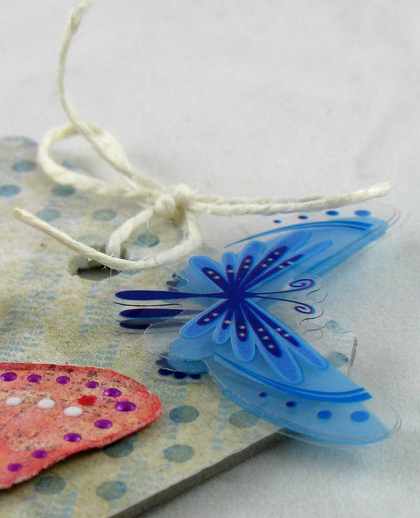 Wykorzystane produkty:
*
Praca Kaszy:
Oczywiście kartka i mój ulubiony ostatnio format. Bardzo przestrzenna kartka wg. kursu Piekielnej Owcy. Mnóstwo kosteczek 3D, trochę brokatu no i filiżanka aromatycznej kawy 😉
Praktycznie każdy element umieszczony jest na dystansach. Użyłam 2 i 3 mm tak aby podkreślić wielowymiarowość poszczególnych motywów.
Wykorzystane materiały;
*
Praca Pini
Słodka karteczka dla mojej małej córeczki-studentki… , która uwielbia babeczki 🙂
Poza tłem wszystkie elementy kartki przyklejone są na kosteczkach 3D (2mmm lub 1mmm- elementy babeczki).
Każda babeczka składa się z 5 części.
Wykorzystałam :
*
Praca Lakuny:
Wyzwanie idealne dla mnie, bo nie wyobrażam sobie wykonania pracy bez efektu 3D. W mojej karteczce na kosteczkach podklejone są: druga warstwa papieru bazowego, element ozdobny z ptaszkiem, ramka, wykonana dziurkaczem papierowa koronka oraz literki.
Oto wykorzystane przeze mnie materiały:
*
Drycha:
Uwielbiam prace z wystającymi elementami! Podczas tworzenia scrapów do albumów zawierających zdjecia z całego roku, trochę drażni mnie fakt, że strony powinny być raczej płaskie… Albumy wychodzą i tak bardzo grube… ale naklejki, które były wspomniane na początku notki są idealnym rozwiązaniem 🙂 Pianka trochę spłaszcza się podczas zamknięcia albumu ale po otwarciu – wraca do swojego kształtu 😀
Naklejki My Mind's Eye potraktowałam pomarańczowym Distress Stain oraz czarnym tuszem. Tło ozdobiłam stemplem "cogs" z nowej kolekcji 3rd Eye (będą dostępne Na Strychu już wkrótce), stemplowałam z pomocą Tack'n'Peal! Moja nowa miłość, bardzo ułatwia stemplowanie z niezamocowanymi stemplami 🙂 Polecam!
Poza tym craftowe płótno wycięte wykrojnikiem Tima Holtza (i zabarwione, również Stainem), kropeczki 3d…
Na jednej z naklejek znajduje się nietoperz – zawieszka 🙂 Obcięłam jej kółeczko a wystającą po nim część – zakryłam mikrokulkami 🙂 Mikrokulki (bulion) znajdziecie też w innych elementach pracy 🙂
Wykorzystane przeze mnie produkty:
Distress Stain, naklejki 3d, liquid pearls,
*
Czujecie się zainspirowane?
Nie czekajcie, scrapujcie i pokazujcie efekty 😉