Dabbery w akcji
Autor:
Tores
komentarzy 161
Ponieważ w sklepiku Na Strychu dabbery – farby akrylowe w plastikowej buteleczce z gąbkowym aplikatorem – są właśnie dostępne w promocyjnej cenie, chciałabym przybliżyć Wam ich właściwości i możliwości, które są naprawdę interesujące.
To, co szczególnie cenię w dabberach, to fantastyczna wygoda użytkowania. Nie wymagają, jak zwykłe farby akrylowe w tubkach, dodatkowych narzędzi – palety, pędzli, pojemników na wodę, odpada szukanie tego wszystkiego, ustawianie, potem mycie… Teraz, kiedy chcę coś pomalować, po prostu sięgam po buteleczkę – odkręcam – używam – odstawiam. Szybko i czysto! Jeśli używasz farby akrylowej głównie do malowania niewielkich powierzchni/przedmiotów, takich jak np. tekturowe wycinanki albo do tworzenia własnego tła pracy, to dabbery z całą pewnością są dla Ciebie!
Dzięki gąbkowemu aplikatorowi na malowanym elemencie powstaje ciekawa "bąbelkowa" faktura, na większych powierzchniach – możemy tworzyć wzory z kolorowych kółek, albo, przesuwając aplikatorem po papierze – uzyskać efekt podobny jak przy malowaniu szerokim pędzlem. Poniżej kilka stron recyklingowego albumu, w którym wykorzystałam właśnie te możliwości dabbera: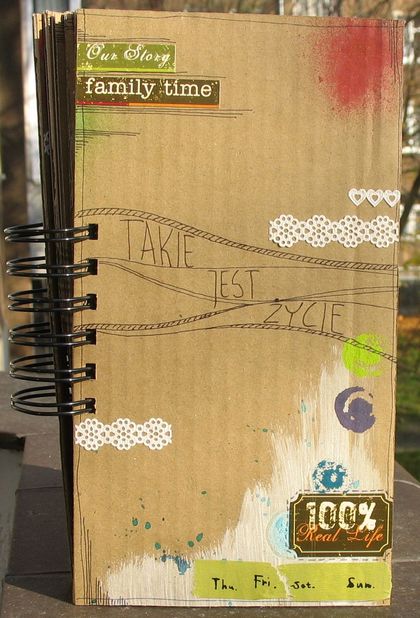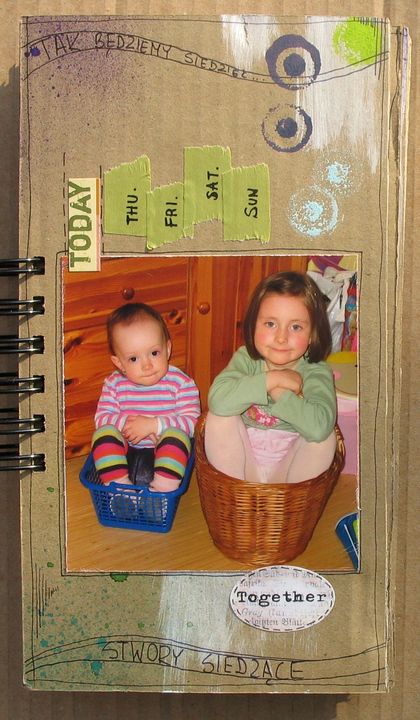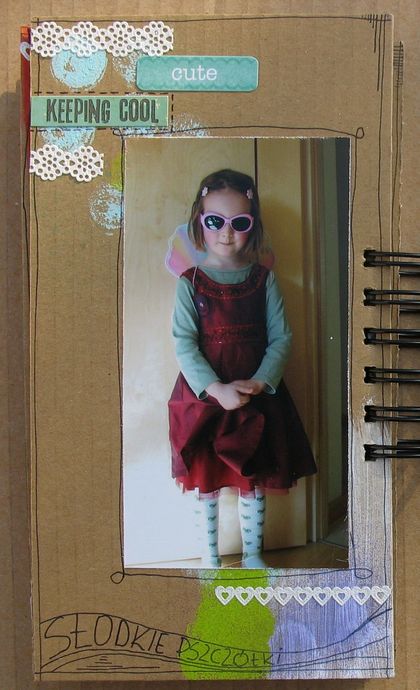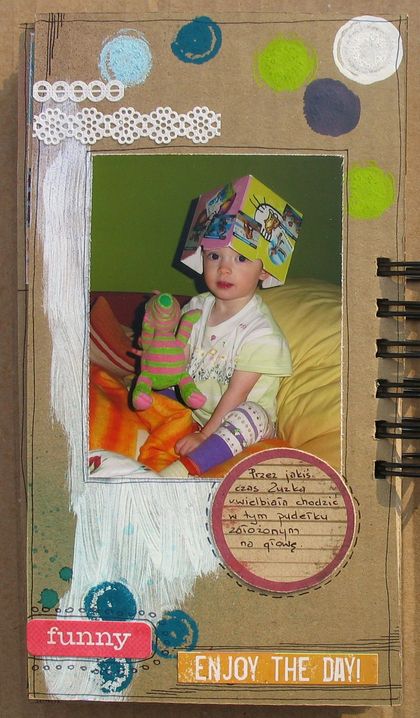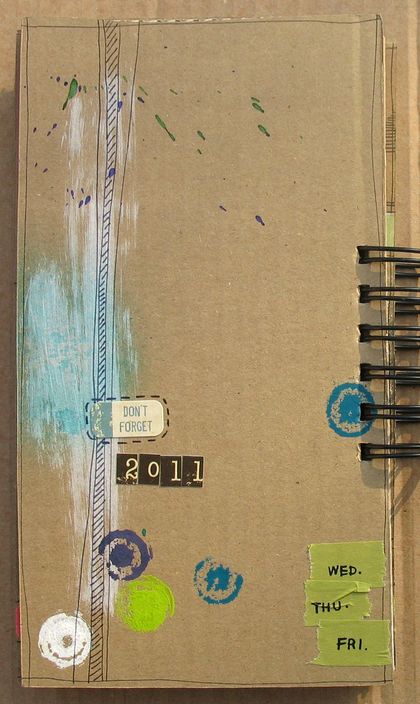 Farba akrylowa jest farbą kryjącą, możemy więc wykorzystać ją do zabarwienia brzegów papieru – efekt jest o wiele wyraźniejszy, niż przy użyciu tuszu, zwłaszcza w przypadku jasnych kolorów (znowu gąbkowy aplikator umożliwia nam szybkie i wygodne wykonanie tego zabiegu). Używając białego dabbera podkreśliłam brzegi okładki tego świątecznego albumiku: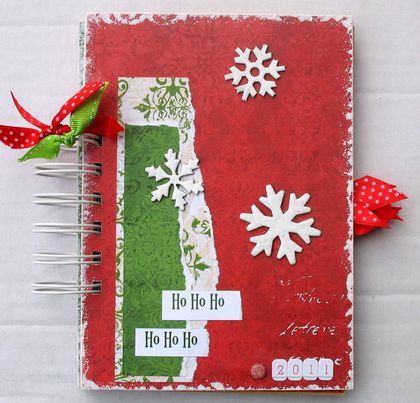 Kryjący efekt jest szczególnie spektakularny w przypadku farb metalicznych – pokryte nim elementy wyglądają jak wycięte z metalu. Wszystkie tekturowe wycinanki z poniższego blejtramu pomalowane są za pomocą srebrnego dabbera (na zbliżeniu widać też uzyskaną przy "tapowaniu" fakturę):
Jeśli lubicie czasem poeksperymentować ze stemplami lub maskami – również polecam wypróbowanie do tego celu farb w dabberkach, oczywiście ze względu na wygodę użytkowania. Za pomocą aplikatora łatwo nałożymy na stempel odpowiednią ilość farby albo pokryjemy kolorem maskę przyłożoną do papieru – trzeba tylko koniecznie pamiętać, żeby po takim użyciu _natychmiast_ umyć stempel/maskę, bo farba zasycha bardzo szybko i może je zniszczyć!
Nawet jeśli dotychczas nie używaliście farb akrylowych w scrapbookingu (a może zwłaszcza w takim wypadku) – bardzo zachęcam do wypróbowania dabberów, są po prostu stworzone do tego typu zastosowań 🙂 Spróbujcie i pokażcie nam efekty!
Pozdrawiam
Tores-