Uciekam przez clean&simple
Autor:
Tores
komentarzy 311
Chciałabym dziś zarekomendować Wam malutki przydaś, dobrze znany, ale przeze mnie dopiero odkryty – to kryształkowe samoprzylepne zawijaski.
Zasadniczo jestem wielbicielką pustych przestrzeni – i w życiu, i w scrapbookingu. Naturalny jest dla mnie styl clean&simple i to do tego stopnia, że, podziwiając u innych bogate, warstwowe, wypełnione dodatkami prace, sama bardzo długo po prostu nie umiałam takiej zrobić. Nie miałam pomysłu, co mogłabym do tej mojej pustej przestrzeni dodać. Powoli, podglądając mistrzynie ozdobnego stylu, uczyłam się tworzyć prace z kilku warstw papieru, dodawać do nich stemple, tekturowe wycinanki, kwiaty, wstążki (chociaż początkowo strasznie mnie bolało, że przyklejając coś na wierzchu, muszę zakryć coś innego pod spodem – co za marnotrawstwo!). Odkrywanie coraz to nowych "wypełniaczy przestrzeni" zaczęło mi się całkiem podobać – a wspomniane kryształkowe zawijaski to moje ostatnie w tym temacie znalezisko.
Nie zakrywają za dużo! A mimo to tworzą kolejną warstwę, dodają pracy objętości i ozdobności. Pasują i do delikatnych, pastelowych, "puchatych" prac i do tych surowych, poszarpanych – na zasadzie kontrastu, który uwielbiam. Z zawijaska można odciąć pasujący kawałek i tylko tego kawałka użyć, nie trzeba od razu przyklejać całości – lubię taką "elastyczność". Co do przyklejania zawijasków w całości (a czasem są dość rozbudowane) – żeby równo się ułożyły i nie przyklejały przy okazji do wszystkich palców, można zrobić tak: oderwać od folii mały fragment i przykleić w wybranym miejscu, a potem powoli odrywać dalej i przyklejać stopniowo całość.
Cieszę się, że wreszcie odważyłam się po nie sięgnąć i po raz kolejny poszerzyłam sobie wachlarz elementów do wykorzystania w zapełnianiu przestrzeni.
Na zachętę mały tag – okładka tagowej książeczki, powstały z inspiracji skrzydlatym wyzwaniem na CraftArtwork. Tutaj kryształki są dość mocno widoczne, w kontraście do brązowo-beżowej reszty: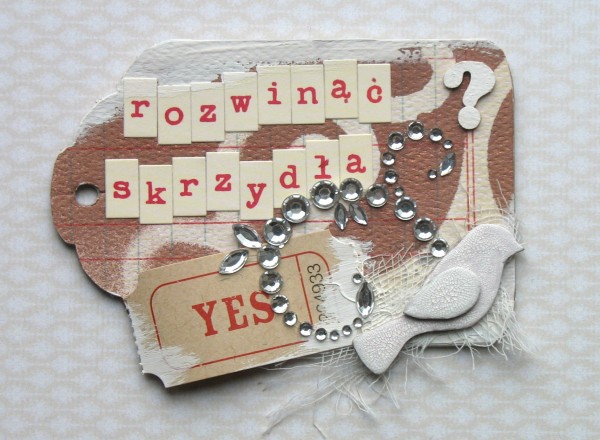 A tu fragment starszej pracy, również z kryształkami, tym razem bardziej wtopionymi w całość: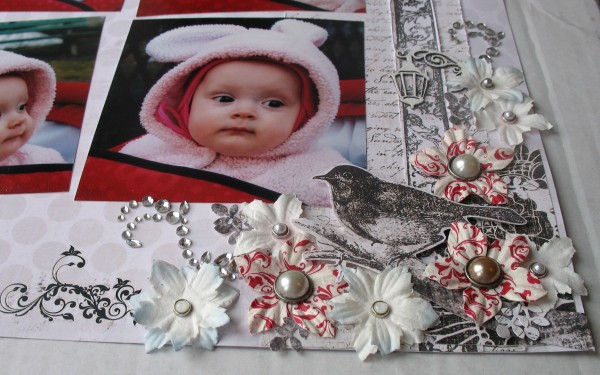 Zachęcam do spróbowania, szczególnie te z Was, które też się trochę tego błysku obawiają – to się da oswoić 🙂