Wyzwanie: Mój ulubiony… motyw
Autor:
Tores
komentarze 93
Już czas na kolejne wyzwanie z serii "Mój ulubiony…". Tym razem temat wymyśliła Coco.nut, autorka zwycięskiej pracy wstążeczkowej (tego skrapa). Coco nie miała żadnych trudności z podaniem tematu:
Co do kolejnego wyzwania, to ja doskonale wiem, co jest moim ulubionym elementem scrapowym, który powtarza się w większości moich prac – to drzewa 🙂
Zapraszamy więc do zabawy – tworzymy prace z motywem DRZEWA. Ma to być całe drzewo, drzewo jako takie, jako całość – nie gałązka, nie liście, nie skojarzenia i inspiracje dotyczące drzewa, ale po prostu drzewo jako motyw, wyraźny i widoczny w pracy.
Aby wziąć udział w wyzwaniu należy w ciągu dwóch tygodni stworzyć dowolną pracę (skrap, album, kartka, zakładka, tag, atc, pudełko itp.), w której widoczne będzie przynajmniej jedno drzewo (prosimy o prace nowe, wcześniej nie pokazywane) i w komentarzach pod postem podać linka do bloga/galerii lub przesłać zdjęcie mailem na designteam@na-strychu.pl. Przez dwa tygodnie (do poniedziałku 28 marca włącznie) czekamy na Wasze zgłoszenia, a w kolejnym tygodniu, w tajnym i poufnym głosowaniu DT i zespołu Na Strychu oraz Autorki wyzwania, wybrana zostanie zwycięska praca, o czym poinformujemy w osobnym poście, przyznając jednocześnie NAGRODĘ. W tym wyzwaniu nagrodę stanowi absolutna, świeżutka, wiosenna nowość – premierowy, pełny zestaw papierów, borderów i tekturek The Scrap Cake "Wiosenne przebudzenie", zaprojektowany przez Karolę! W tym tygodniu zapraszamy na prezentację kolekcji na Facebooku. O wygraniu wyzwania można poinformować na swoim blogu – umieszczając tam odpowiedni bannerek. Dodatkowo – zwycięzca dostanie jednorazowo 5% zniżki na zakupy w sklepiku Na Strychu. I jeszcze dodatkowo – poprosimy tę osobę o podzielenie się z nami czymś ULUBIONYM w kolejnym wyzwaniu.
Coco.nut tym razem stawia na minimalizm i wyeksponowanie głównego motywu:
ArteBanale na okładce śpiewnika umieściła naprawdę solidne drzewo:
A na dalszych stronach – cały las:
Piekielna Owca zrobiła… drzewo 🙂 Wygląda mi na rajskie:
A ja tradycyjnie wykonałam skrapa, w którym drzewa występują również w tytule: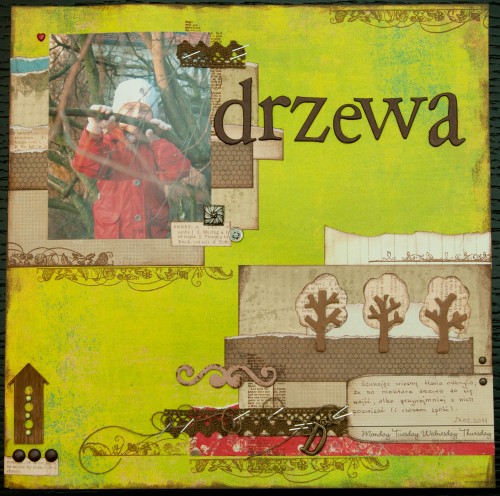 Zapraszamy serdecznie do udziału w wyzwaniu!