Journaling cz.1 – Zaczynamy
Autor:
Tores
komentarze 3 282
Jeden obraz wart jest więcej, niż tysiąc słów… ale czasem warto go kilkoma słowami uzupełnić. Zwłaszcza, jeśli obrazem jest zdjęcie i chcielibyśmy, żeby za kilka/kilkadziesiąt lat, pamiętano trochę więcej niż tylko to, kogo ono przedstawia (w najlepszym wypadku). Do tego właśnie w scrapbookingu służy journaling – czyli, niedokładnie przekładając na polski – opis. Szczególnie dużo miejsca na skrapach zajmuje on w pracach Amerykanek – można natknąć się czasem na zapisaną maczkiem stronę 30×30 cm, z małym zdjęciem w jednym rogu, traktowaną jako LO (używam zamiennie terminów LO(layout)/scrap na określenie jednej skrapowej strony). Na naszym skrapowym podwórku journaling występuje w dużo skromniejszej wersji, najczęściej jako jedno-dwa zdania komentarza do przedstawionej na zdjęciach sytuacji, a czasem w ogóle opisu brak. Mam wrażenie, że trochę boimy się takich prywatnych, pisanych wypowiedzi, nie jesteśmy przyzwyczajone do otwartego dzielenia się emocjami, przemyśleniami, wolimy, jeśli już, przedstawić tylko fakty. A przecież opisanie okoliczności towarzyszących robieniu zdjęcia lub tworzeniu samego skrapa – jego inspiracji, związanych ze zdjęciem emocji, myśli, które chcemy wyrazić – może wspaniale uzupełnić efekt końcowy. Chciałabym niniejszym zachęcić Was do zwiększenia zawartości słowa pisanego w Waszych pracach, przedstawię więc kilka sposobów na to, co i jak można opisać na skrapie.
To jest właśnie pierwsza trudność – CO napisać.
Warto zacząć od rzeczy podstawowych, czyli po prostu od opisu sytuacji na zdjęciu: kto?, gdzie?, kiedy?… ewentualnie rozszerzonego o: co? (się dzieje, co robią osoby na zdjęciach) i dlaczego (dlaczego tak wyglądają, dlaczego akurat to zdjęcie wybrałam do oskrapowania)? Odpowiedź na te pytania daje nam już całkiem sporą wypowiedź, przybliżającą sytuację na zdjęciu, wpisującą ją w jakiś kontekst, konkretne wspomnienie. Dobrze widać to na przykładzie poniższego skrapa Mony Lisy:
Niby niewiele, parę zdań, prosty opis tego, co się działo, a o ile bardziej realna robi się ta przeszła chwila
Chcecie jeszcze prościej? Wypiszcie w punktach listę: datę, miejsce, osoby, zdarzenie itd.
Formę listy można wykorzystać także do spisania np. ulubionych rzeczy/chwil/cech jakiejś osoby/planów/marzeń/itd. Jest to rzecz bardzo prosta, a jednocześnie wzmacniająca kronikarski wymiar pracy (fajnie będzie za parę lat sprawdzić co udało się zrealizować) i nie wymagająca szczególnych literackich umiejętności (a wiele osób obawia się journalingu "Bo ja nie umiem ładnie pisać"). Zobaczcie, jak wygląda spisana przez Mumkę lista "To lubię":
Spisywanie suchych faktów mamy już opanowane, przejdźmy więc do części trudniejszej – pisania o przeżyciach, emocjach, myślach, wspomnieniach…
Na początek spróbujmy poeksperymentować z tytułami skrapów/albumów, może z nagłówkami poszczególnych albumowych stron? Wyjdź poza pojedyncze słowa, rozbuduj je, niech tytuł będzie bardziej opisem niż hasłem. Najdłuższy tytuł, jaki umieściłam na skrapie, jest trochę metaforą i sam z powodzeniem zastąpiłby journaling (ale nie musi, bo główny journaling jest schowany pod zdjęciem):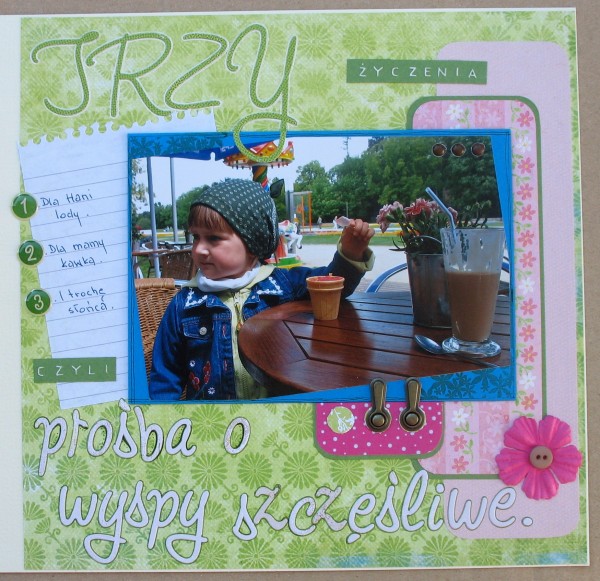 Wyrażanie własnych emocji mi osobiście sprawia problem (szczególnie w skrapach ze zdjęciami dzieci, nie wiem dlaczego) i żeby go przezwyciężyć wypróbowałam taki trick: weź kartkę i wypisz na niej słowa, które przychodzą ci do głowy, gdy patrzysz na dane zdjęcie – nie zastanawiaj się, nie oceniaj, po prostu pisz. A potem te słowa umieść na skrapie – w dowolny sposób. Tak właśnie zrobiłam w tej pracy: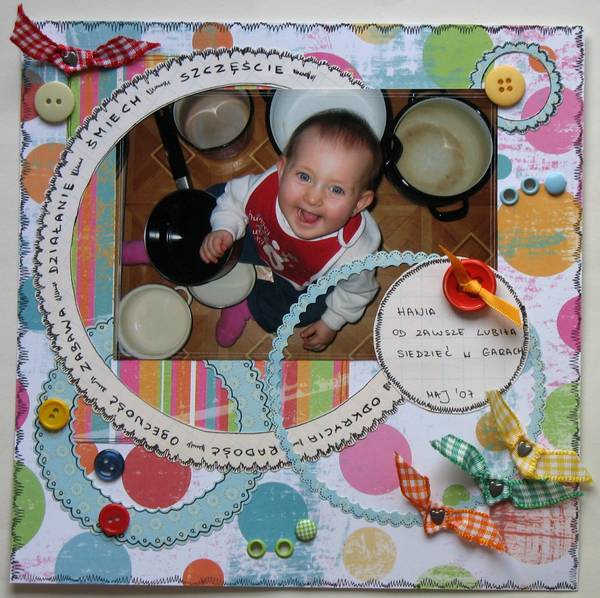 Uff… chyba na początek wystarczy? Za tydzień przejdziemy do trochę dłuższych form, ale już teraz zapraszam do dyskusji na temat journalingu: czy go lubicie? stosujecie? co jest dla Was najtrudniejsze w pisaniu na skrapach? a może uważacie, że to nie jest potrzebne? Porozmawiajmy! Pokażcie nam też prace z journalingiem – udanym/nieudanym (Waszym zdaniem), ciekawym pod względem treści/formy, początkującym i zaawansowanym. A po zakończeniu mojego "wykładu" (przewidziany jest na trzy części plus być może czwarta, dodatkowa – podsumowująca Wasz wkład w dyskusję) wśród wszystkich komentujących osób rozlosuję mały upominek – zestaw najróżniejszych karteczek do journalingu.
PS. Dziękuję bardzo Mumie i Mona Lisie za pozwolenie na wykorzystanie ich prac jako przykładów.