Wyzwanie: Mój ulubiony… kolor
Autor:
Tores
komentarzy 180
Witajcie, tu Tores. Bardzo się cieszę, że jestem częścią DT "Na strychu" i że tutaj na blogu będę mogła dzielić się z Wami tym wszystkim, co sama w scrapbookingu lubię najbardziej. A że najbardziej lubię wyzwania i kolor zielony… to już chyba jasne, co teraz będzie. Niniejszym zapraszam Was do cyklicznego wyzwania pod hasłem "Mój ulubiony…"
Na pierwsze wyzwanie proponuję … no tak, zieleń. Kolor nadziei, kolor spokoju, kolor pieniędzy. Jego towarzystwo ociepla chłodne błękity, tonuje gorące żółcie i róże. Może być pastelowy, wyblakły, delikatny i lekki albo jaskrawy, żywy, agresywny. Kolor uniwersalny, z milionem odcieni, pasujący do wszystkiego – i chociaż nie wszyscy podzielają mój entuzjazm to mam nadzieję, że jednak kogoś nim zarażę. Zapraszam serdecznie do podjęcia wyzwania – w ciągu dwóch tygodni należy stworzyć dowolną pracę w kolorze zielonym (dodatek innych kolorów jest dopuszczalny, ale 90% powinna stanowić zieleń) i w komentarzach pod postem podać linka do bloga/galerii lub po prostu przesłać zdjęcie mailem na designteam@na-strychu.pl. Przez dwa tygodnie (do niedzieli 31 października włącznie) czekamy na Wasze zgłoszenia, w kolejnym tygodniu, w tajnym i poufnym głosowaniu DT i zespołu Na Strychu, wybrana zostanie zwycięska praca, o czym poinformujemy w osobnym poście, przyznając jednocześnie NAGRODĘ. W tym wyzwaniu nagrodę stanowi zestaw trzech mini-pudrów do embossingu: dwa w odcieniach zieleni i trzeci w kolorze wybranym przez zwycięzcę. Dodatkowo – zwycięzca dostanie 5% zniżki na zakupy w sklepiku Na Strychu. I jeszcze dodatkowo – poprosimy tę osobę o podzielenie się z nami czymś ULUBIONYM w kolejnym wyzwaniu.
Zależy mi, żebyście bawiąc się zielenią dostrzegły i pokazały, jak różne klimaty i tematy można za jej pomocą zilustrować. Przy okazji chciałabym zwrócić Waszą uwagę na możliwości, jakie daje, paradoksalnie, ograniczenie się w pracy do jednego koloru. Sama przekonałam się o tym tworząc z dziką radością prace na wyzwania monochromatyczne w ArtPiaskownicy. Nagle dostrzegłam mnogość odcieni i różnice faktur, pozwalające tworzyć rzeczy w zupełnie różnych nastrojach, klimatach – albo wręcz przeciwnie, zauważyłam, że niektóre kolory są bardzo zdecydowane i wydobycie z nich niuansów wymaga sporego wysiłku.
A jak się do tego jednokolorowego wyzwania zabrać? Ja osobiście bardzo lubię początek każdej monochromatycznej pracy – czyli wybieranie rzeczy w odpowiednim kolorze.
A jak coś nie jest zielone, jak np. tekturowe kształty:
to można je okleić papierem (odrysowuję, wycinam, przyklejam, przecieram krawędzie papierem ściernym)
i ostemplować
albo potuszować
albo po prostu pomalować (tutaj farba pękająca).
Tym razem z układanki papierów, tekturek i kwiatków wyszedł mi oliwkowy, podniszczony, poszarpany mini-albumik z okrągłymi miejscami na zdjęcia i journaling: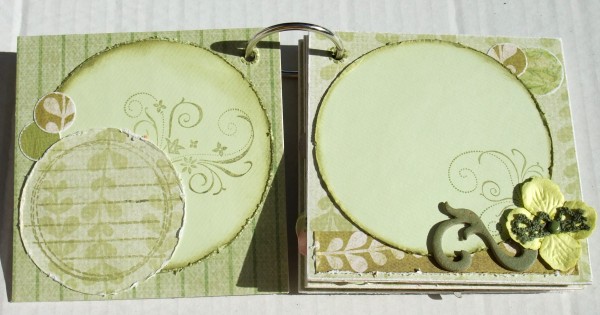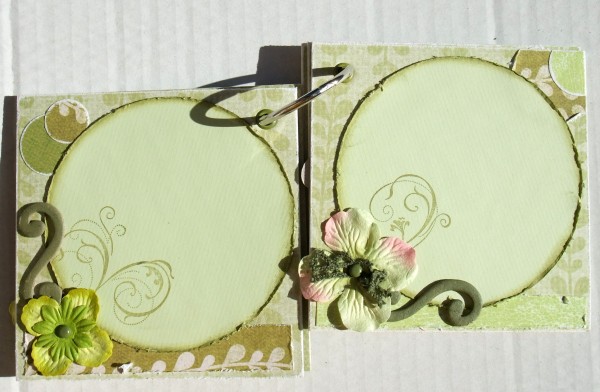 Albumik będzie niedługo do wygrania w candy na moim blogu.
Pozostałe dziewczyny z DT też zmierzyły się z tym wyzwaniem, same zobaczcie, jak inne klimaty uzyskały.
ArteBanale i jej soczyście zielone kartki
Tajemnicze pudełeczko Piekielnej Owcy (również będzie czekać na nowego właściciela w candy na Owczym blogu)
Patchworkowa wycinanka Nimuchy


Zapraszamy do zabawy!